Cemetery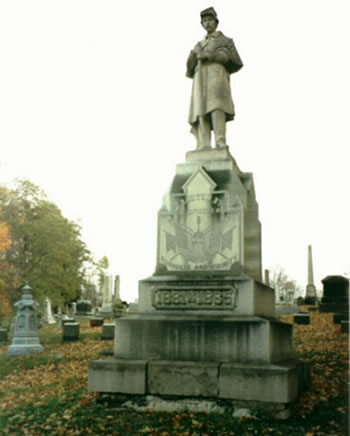 History of the Rushville Village Cemetery
The Rushville Village Cemetery was originally established by the Rushville Cemetery Association. In the 1970s the responsibility for maintaining the cemetery was transferred to the Village of Rushville. Today, the Village owns the cemetery grounds and executes all lot sales and burials. The Cemetery in comprised of 7 acres of land, is very well maintained and is accessible either along the driveway up from North Main Street or from Castle Street. The oldest part is closest to North Main Street.
In an effort to create a coherent and accurate burial list, compilers physically read the cemetery markers and compared the burial list (found below) with the extensive village records. These included a lot record as well as a sexton's book created from George Walther's diaries, 1871 - 1929 (missing 1873 and including only half of 1898, 1910 and 1918.) This list was finished in 1965 by Wilson W. Fitch, then secretary-treasurer of the Rushville Cemetery. A more recent list was provided in summer of 1984 when Thelma Eggleston Valdez completed her project to record the names and dates of all monuments in the Village Cemetery. For the first time ever, the Village of Rushville had access of two accurate lists of burials according to the actual gravestone inscriptions. Listing notes indicate whether it is on a certain monument or associated with a particular group of markers. The Village Clerk and History Room have access to ownership information as the notes do not necessarily indicate actual lot ownership.
Pictured here is a Civil War memorial standing at the western edge of the cemetery, one of very few of its kind standing outside a county seat and perhaps reminiscent of the Village's very unusual status as a municipality straddling county lines.
If you are interested in visiting the Rushville Village Cemetery or would like to learn more about those who are buried there contact the Rushville History Room. Please visit the History page for contact information.
Burials and Lot Purchases
All burials and cremations are coordinated through the Rushville Village Office. Lot purchases are handled by the Village Clerk and Public Works Supervisor, in addition to the issuance of burial lot deeds. Currently, a single burial lot can be purchased for $500 and a double burial lot can be purchased for $1000. For further information please contact the Village Office.



| | |
| --- | --- |
| KEY - Cemetery Burial List | View Rushville Burial List (PDF; 319KB) |
| [*] | Rushville History Room has Obituary |
| ** | Information from Newspaper Obituaries |
| *** | Stone found over the embankment. |
| +++ | Information from John C. Thomas Funeral Book |
| === | Found on Interment List for (year) |
| (Year "M-D") | Date of Interment not death! |
| (#) | No headstone |